2020 Newsletter Digital Edition Available
Your latest issue of Lake Front has arrived.

Back issues:
Excellent Webinar on Lake Shore Management
If you've ever wanted to get the best advice and direction on how to manage your lake front property, particularly the shoreline itself, this webinar is for you. Presented by the New England Chapter of NALMS (North American Lake Management Society), this April presentation covers Best Management Practices for lake-friendly development and WHY they work. Check out the recording now.
This is the 3rd year of SLPA's efforts to eradicate EWM from "Big Salem" since its discovery in 2017. Hundreds of volunteer hours were contributed by lake association

members. Personal boats were loaned to transport divers and equipment; camps were used for buoy, bottom barrier and rebar storage. Vehicles were provided to transfer many bags of milfoil to the town stump dump.
Dennis Bond, Lenny Boulanger and
Roger Cartee provided pontoon boats and put up with hauling our muddy equipment. Rob Patton of Barton, diver worked tirelessly over five months. Ross Ogilvie provided valuable GPS help and assistance with barriers. Ed Wells coordinated the effort in addition to working on boats, mapping, snorkeling/free-diving and searching for new EWM sites.
Here's a list of just some of the tasks we accomplished:
installation of about 700 feet of Aquascreen benthic barrier

removal of more than 1,400 EWM plants

45 dives for a total of 140 in or on-water diver hours

recruitment of three new volunteers to assist with milfoil survey work and in-water hand pulling

created GPS waypoints and maps of EWM sites and bottom barrier locations
News Update: Town Beach & Camp Moriarty Restore a Living Shoreland
Perhaps you saw the yellow booms floating in the water around the Labor Day timeframe. Or maybe you noticed a group of hard-working people doing some pretty heavy lifting and landscaping by the town beach. It was - as we reported in our newsletter this year - a special restoration project between the Town of Derby and the Siskin Ecological Center.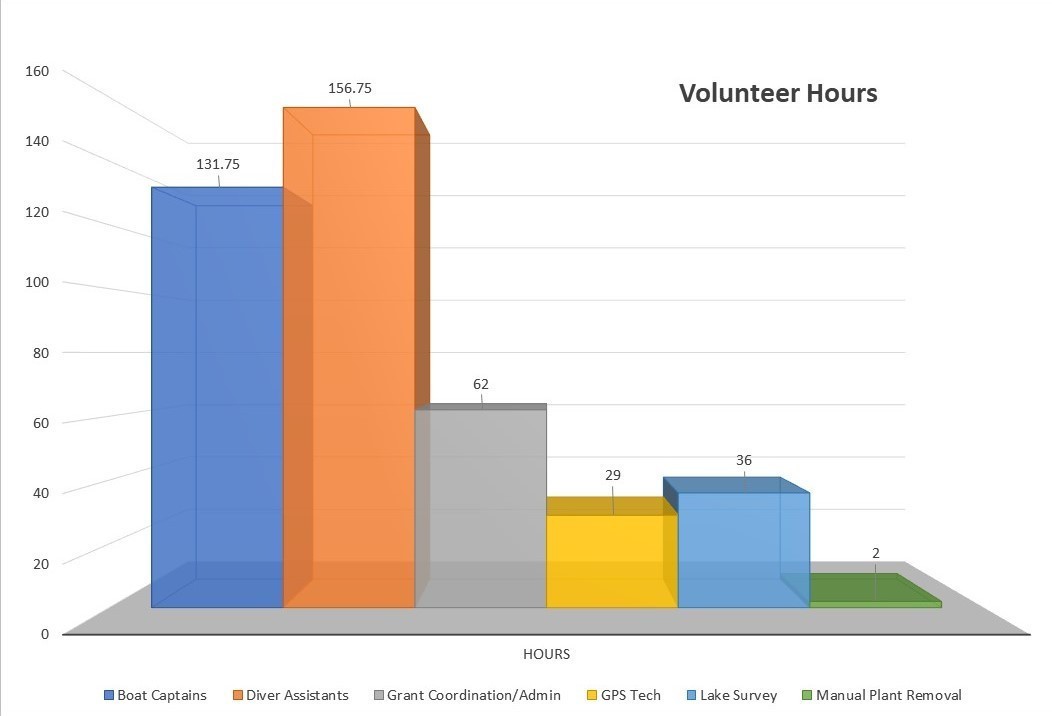 Salem Lakes Association, in partnership with the Town of Derby, recently completed a busy season managing

its Eurasian Water Milfoil, an invasive aquatic plant first found in Big Salem in 2017. Hundreds of volunteer hours were donated including use of several private boats.Diver and related costs were covered by a $6,000 grant from Vermont's Department of Environmental Conservation. In addition, we had a generous allotment from the Town of Derby as well as proceeds from our annual coin drop and donations from lake association members.Please get in touch with the lake association if you'd like more information or to learn how to get involved. Email: Salemlakesassociation@gmail.com